Uncle Sam Must Approve My Ukrainian Fiancée
Posted under: Relationships
---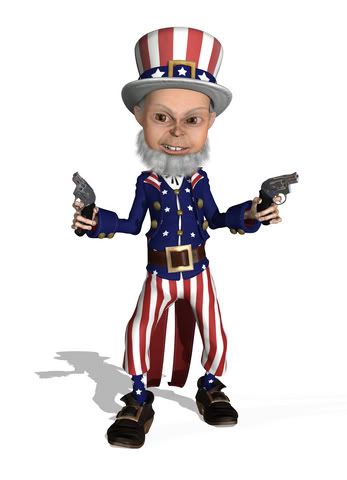 My fellow single midlife men, when you set out to marry a foreign woman you soon find out that your government wants to have a lot to say about whether you can do this or not. Not only will they want to scrutinize the formidable documentation you are required to submit to get her a visa, they will ultimately make a determination as to each of your motives in this proposed relationship.
Before I get too far ahead of myself here, let me get you up to speed on what I'm talking about. I recently returned from my second visit to Ukraine. I had been there in July and met with four women with whom I had arranged to meet via a website. My blog on this first trip is here and the website I'm talking about is like this Foreign Single Women site.
From that first visit, I met a gal with whom I felt pretty good about. I met her for a date and then again the next day for several hours. From this visit, we agreed to continue to communicate further and see if something more might be possible between us.
After communicating almost daily on Skype for several weeks, we concluded that we needed to meet face-to-face to confirm the good things we were feeling in our daily conversations, and sooner rather than later. The result was that we spent eight wonderful days together in the Black Sea port city of Odessa. Weather was perfect and so was our time together. In the end, we wanted to proceed to marriage.
When I got back to the U.S., I contacted a law firm that I'd researched some weeks earlier and discussed details with them. I paid my money and we are now collecting and providing the law firm the documentation needed to file the application with the INS (now called the USCIS).
I'll talk about these discussions in more detail somewhere along the line, particularly the visa choices and pros and cons of each. But not today.
While I think I understand why authorities get involved, I still find it somewhat ironic that the 'cold hands of government' will pretend to assess two people's motives in a relationship and their capacities to marry. They are interested in answering many questions about this relationship, as if they are some grand matchmaker. Why is she (or he) doing this? Is this really a love-based relationship? Does he have sufficient money to afford to marry her? Does she have a criminal background? What is her physical condition, medically speaking?
So, we will have to pass muster from any number of federal entities including immigration, of course, but any other entity that expresses an interest in our application – FBI and Homeland Security, for example – and, they have the power to oppose the marriage (actually, to oppose granting a specific visa).
My Uncle Sam will use these government entities to try to answer these questions. They require evidence to establish that a 'real' marriage is intended. Things like intimate photos of us together, copies of emails, Skype communications, phone and chat logs, and proof that we have met and spent time together. Such a caring 'uncle.' I'm just overwhelmed to tears over such concern – or is it simply control?
If I would have had to pass through such scrutiny for my first marriage, I probably wouldn't have been allowed to marry, or at the least, may not have wanted to! Interesting concept, I suppose, if you don't mind trampling on individual freedoms along the way.
In the mean time, my Uncle will let me know whether I can bring my wife home, and will take his sweet time in deciding.
Welcome to America, my love, if you qualify….