---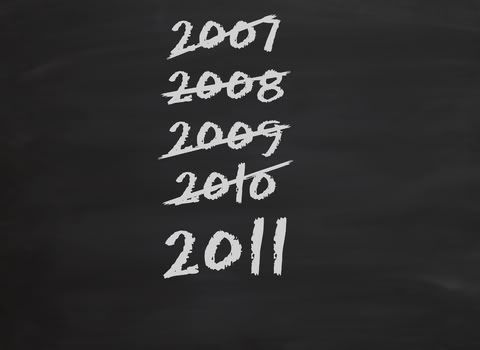 I guess there is something in the human psyche that views endings as distinctly different from beginnings.
Now that I've read what I just wrote, even I want to go 'Well, duh!" But hold on to your Victoria's Secret catalog here a second! Or as my buddy says, 'before you get your panties in a bunch,' give me a little room to work here.
At the beginning of things, we set goals and make resolutions. At the end of things, we dig holes and declare dissolutions. Pretty clever, huh.
This is the time of year when we dig holes to bury the goals and resolutions we now know did not happen and were for the most part abandoned months ago. This is what I think happens with New Year's resolutions. In fact, I think that is true with most goals, whether organizational or personal.
I'd say for me that the most troubling aspect of a year ending is the fact that it did so with such speed and resolve. I say resolve as it seems undeterred from that end by my expressions of desire for it to slow the hell down! It seems to push ahead even though I yell at it, shake my fist at it, and and, well, launch out with numerous other disparaging and hostile words and acts toward it. That's resolve, man!
In any case, we humans still seem to have some need to put up goals each year only to abandon them early on and then do what we wanted to anyhow. Well, 'wanted to' implies that these were explicit goals, when in fact we just wandered through our days doing battle with eternity and mortality to end up again at finality.
Look, there is only one day's difference between the end of a year and the beginning of another. In fact, it is the difference of one second on a clock! We stand there (if we're still up at that hour) with our champagne glasses counting down to the new year with some slushy version of renewed optimism about next year that did not materialize in any of the previous years. Some call it hope. Silly people.
I wonder if we're really drinking a lament to the ending of the old year as opposed to the enthusiastic welcoming of a new one.
In any case, since I'm under this impulse to do this, here is a list of ten candidates for New Year Resolutions for this year:
1) Grow more hair on my head. I would also like to grow less hair in one or two other areas. Or, perhaps simply engage in an aggressive, government-supported relocation program that will move excess hair from the hair-heavy areas to the under-populated one.
2) Under the urgings of the IRS, I will quit losing money on this website.
3) I will finish decorating my small one-bedroom apartment this year. I've shown little evidence that I can actually do this in the nearly 5 years I've lived here – but I'm serious this time.
4) I will quit my job. Not just this job, any job. I have a good job right now – but it is a job. I hate jobs. But then I would not be able to afford to lose money on this website any longer.
5) I'm going to get me one of those Victoria's Secret models as my regular girlfriend. Probably the one that said that average men should not dare approach her if they see her in a bar. I'm sure she was not referring to me.
I'd impress her with my MacGyver-like skills and my stunning selection of Walmart wines and $5 DVDs. I'd reel her in with my tasty specialty of boot-tough expiration-priced steaks burnt to perfection on my $50 gas grill. Average guy, my foot! There will be no secrets when I'm finished.
6) I will stop making insensitive comments to people when they express stupid opinions. Now that I think about it, I won't make sensitive ones either. Stupid opinions don't deserve any comment.
Though my incorporation of such preferred terminology as 'mental midget' seems perfectly appropriate to me during such times, I will stop doing this. I will not attempt to hide the look of dismay that inevitably is on my face during such moments, however. I have to draw the line somewhere.
7) Write a blog entitled: Jack and Other Types of Asses I've Known. I mean, I know several other kinds: dumb, smart, tight, bad, wild, tired, sorry, sweet, and fat. You probably already did this as you were reading, but you can add the word ass after each of the above adjectives. In any case, this seems an important literary contribution I could make this year.
8) I will earn a million dollars this year. I'm committed to elevating my personal investments in the Arkansas lottery and the neighboring Oklahoma Choctaw Casino. I will have the additional benefit of feeling good about subsidizing education scholarships and Indian reservation social programs.
9) Donate to the government my 2% additional income from the one-year reduction in social security tax. I trust them to use it wisely.
10) Marry a rich old woman who is on significant support, with particular preference for those candidates on life-support. I promise to be supportive and loving, and do so with a straight face.
---
I'm surely not going to do all of these. I have learned one thing over the years and that is that fewer goals are more likely to happen than many. In fact, 'fewer' would include zero goals, a number that feels pretty good at this point.
The few selected would be my resolutions for this year - that's 2010.
That's right, 2010. This way I won't experience such a long, agonizing let down as I usually do at various stages of a given year. In fact, with the reality being that the difference between the old year and the new is a mere second, I will finalize my list every year on December 31st, one second before the clock and calendar switch to a different day and year. I should only experience a slight twinge of disappointment about my life as a result of this.
The fact is that I can't handle much more disappointment. My self-esteem is flagging faster than my testosterone levels. Or how about, faster than my hair loss. My memory loss? In any case, pretty dog gone fast, alright?!
I feel like I've made some real progress here. I'm ready for 2010 to begin