Living Non-Seasonally Adjusted
Posted under: Body
---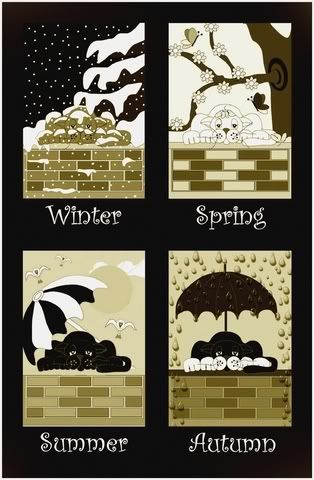 I have decided that I want to be seasonally adjusted. Yes, I've thought about it and I think it will help me feel and look better. Now I'm not sure how it can be done, but I think it will help keep things in perspective.
I work with economic data a good part of my day job. You know employment numbers, retail sales, housing starts, home sales, and the like. One interesting feature of this data is it is reported as seasonally or non-seasonally adjusted data. Basically, there is a case to be made to statistically 'adjust' raw numbers to account for the different seasons of the year which affect various economic activities in our economy. The value of this is that it allows for more direct comparison of different months in any given year.

As an economist friend told me once, "A December with Christmas and snow is not the same as a June with sunny skies and no holidays." The net result is that if you don't adjust the data for these two months, or any other two months of interest, you can't compare them – they're like apples and oranges.
Well, I'm thinking this same concept should be applied to me. Look, I'm not the same in December as I am in June either. In fact, by the time I get through January I'm pretty, uh, …different.
Let's just take one example – my body. The beautifully sculpted torso (don't get distracted here) I've got well-defined by June, the crisply defined six-pack abs, the rock-like pecs, the bronze tan that has progressed so nicely, and the clean and healthy lungs have by January collapsed.
The six-pack has been replaced by a single 'ab' the form and texture of rubber hot-water bottle. The pecs have receded like Rocky Mountain snow caps in August and the tan is reminiscent of a Halloween ghost. In sum, the muscles our flabby and the lung and circulatory capacities have seriously diminished from the winter hibernation.
I'm not my best man at this point. Let's not go into all that happens during this period except to say there's something different about my physical 'economy' in December than there is in June. I would like to be seasonally-adjusted so that 'hot prospect' I'm about to meet next week will see a me that has these seasonal effects removed.
It's tough going through life non-seasonally adjusted. I mean people don't take into account any of these aspects. It is cold, cloudy, and depressing out and you don't think that affects me? I mean, those cold wintry days a couple of weeks ago were a perfect example. Instead of going to the gym I went home, got into my raggedy sweat pants and sweat shirt, prepared a cup of hot chocolate and served it up with some high-calorie butter crackers, which I then topped with slices of marble cheese and summer sausage, AND, and then I curled up in front of NCIS re-runs.
Seasonally behaving, that's what I was doing. Perfectly reasonable. And I should not be held to the same standard as you would, say, in June.
The temps are in the 70s today and I went for a long and vigorous walk. The annual climb back to the June summit has begun. I don't want June adjusted though. But I would like it to last year round.