Wanted: Midlife Man Seeks Midlife Woman
Posted under: Relationships
---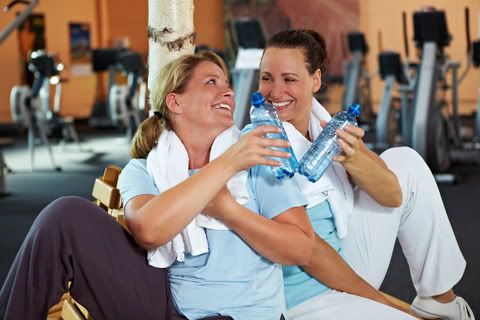 As midlife men, it is hard to figure out how and where to meet quality ladies in a normal social setting. I suspect most of us will gravitate toward the types of places we went to in our youth and will largely be disappointed. I mean hanging out in bars at age 50 on a Friday night using worn-out pick-up lines like 'Hey, babe, what's up?' just seems creepy. If it wasn't for online opportunities, it would be even more difficult to imagine where we would look for these gals.
Yes, the bar scene is a possibility. But let's face it, in such places everyone has their defences up and operating at full power. It's a hostile environment. So, let's think outside the box a bit here and consider places where women may be more open and less guarded.
Here are six situations you may find more profitable when it comes to meeting great women. The first three are more short-term settings where you can drop in for a short time and experience the moment. Things like short classes or one-off events are doable even if you don't particularly care for the event or topic. The latter three situations will likely call you to have at least some interest in the subject as the commitment is longer and the participants are probably interested in the topic. So, hoping to find a great gal while volunteering at the Humane Society may very well happen, but expect her to like, want and have pets, often more than one. So, how would that work for you?
Here's our guide to five great places that can offer you the opportunity to meet women.
Group Dance Classes. Ok hold on don't all jump in line at once! Really we are not talking about ballet here. Popular classes in ballroom dancing are a staple in many communities. So too classes in Country & Western dance and even 1950s rock-n-roll. As there are a variety of group dance lessons to take, be sure that they enrol in the ones where you don't need a partner. That way there are plenty of other singles out there and it becomes a great social experience. Besides dancing is a skill that will always work to your advantage for romantic dates, and moments you really need to impress. Health benefits of dancing are a plus as well.

Adult Classes. Not THAT type of adult class!! I don't think the women at those are available! But there are endless adult learning classes available, and although we know everything anyway- they do attract many women who don't. I was kidding in there somewhere! Single women love to learn and socialize so what types of classes suit us and our target audience? Classes on cooking, book clubs, pottery, photography, gardening, travel, and foreign language, the list seems endless, often draw a diverse audience. Local colleges and universities often offer such programs to the community for a very modest fee.
Wine and Coffee Tasting. This one can be tricky, unless you keep in mind that you are trying to enjoy the experience while maintaining a certain air of sophistication. So remember, it's a wine tasting, not a 'hotdog eating contest'. Slurring your speech is not a big plus at these occasions!
Maybe a tour of Tuscany isn't on the books but there are some great wine tasting get-togethers or coffee tastings through-out the country. There are a number of websites that keep you up-to-date on group restaurant reviews, cafe gatherings or wine events such as yelp.com, which has 36 million users, and localwineevents.com. Not only are these just great topics to understand better as a matter of course, but many women will find you more interesting prospect if you can speak on this subject with some degree of confidence.
Yoga, Pilates and Zumba. Can't see yourself in stretchy pants? So, where sweat pants or gym shorts. The point is that these hugely popular fitness classes tend to attract a disproportionate number of women relative to men. In addition to a great opportunity to improve your health, you'll likely be one of the few, the brave, ... and, well, at least an object of interest!

Volunteering. Nothing makes you look better than doing something that benefits someone else. There is almost always a need for people to give more than simply money. Local charities can range in focus from helping people to pets to old buildings. It's a great way to give back to the community, socialize outside the office, and some great local ladies. Check out our article on community service.

Local Theater, Organizations, or Clubs. Can't act? No problem. Local community theaters can use all sorts of help in putting on productions, not just actors. Local organizations and clubs are another place to meet interesting people, and that would likely include women! Religious organizations, personal finance and investing clubs, civic organizations, and such like are all possibilities.
So now you know where, how about a few confidence boosting stats to help you on your way!
The good news is that the older we get the larger the female population becomes relative to males. Yeah, I know, that's not all good news. The challenge is in finding where that special someone is hanging out these days. It's likely not the bars. So, let's branch out into some other areas – they are out there.