Should You Get a Pet?
Posted under: Lifestyle, Relationships
---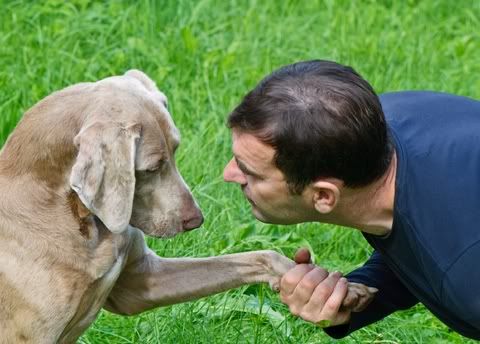 Being single brings one face-to-face with the realities of being alone.
No one to greet you when you get home. No one to talk to when darkness covers the land. No one sitting there with whom to just chat about what's happened in the day, or what's troubling you. This can be a bit overwhelming at first.
Invariably, someone will suggest that you NEED a dog, or cat, or some animal to fill your empty life. Presumptuousness aside, it can sound like a worthwhile idea to consider. I mean, after all, the mice and cockroaches that likely live in my house tend to avoid coming out when I'm hanging around. I've demonstrated hostile behavior toward them when they have and they must sense this.
Cats, dogs and birds can be nifty companions. In our house, we had each of these and more at various times. We should be mindful of what we're getting into before running out to get one or more of them after watching an ASPCA commercial. So, before we do something we might later regret (see my blog on regret), let's review a couple of things:
1. Pets take time. Dogs can be pretty labor intensive, especially in-door dogs. They should be exercised, need to go 'potty' somewhere (seems on my yard!), need fed, need 'played' with, and taken to the vet. You are coming home to something that is probably looking forward to your arrival.
2. Pets take money. Shots, licenses and tags, vet appointments, food, grooming, transport equipment, and that cute little bed and matching bowls. Americans spend billions on their pets each year. You'll contribute to this when you get one.
3. Pets take space. Dogs and cats do better if they have some 'free range' in which to wander, explore and declare their own. So, do you live in a small apartment or do you have a nice back yard to offer.
4. Pets take care. Affection and attention. They need fed and when sick, need medical care. When you're out of town, you need to make sure someone is doing these things in your place.
5. Pets take their toll. On your furniture, flooring, and yard. Cats shed hair and claw furniture, drapes, and whatever seems right to them. Dogs chew on stuff, run over everything and shed hair. If you choose to get them young, oh boy! Have fun. The pups we've had have chewed up more stuff than I can recall – hoses, screwdriver and rake handles, and table legs, and the kids' toys.
6. Pets take getting used to. If you are actively dating people, animals don't always respond well to strangers or new people. More importantly, the new prospect may not respond to animals particularly well.
7. Pets take the place of people. Well, this is probably a bit debatable – but I'm not so sure. I've seen people treat animals as their companions – well, in lieu of a human companion. They eat, walk, talk, watch TV and sleep with them. If pets have taken over your life, prospective HUMAN companions will be justifiably leery of you. It isn't clear in these cases who the dog house will really be for should conflict arise in the relationship. I've read the 'must love dogs' requirement on more than one dating profile over the years.
--------------
Now, granted, how much time, money, care, space and such is required of us depends on the animal. A small goldfish floating in a drinking glass takes little of any of these things. Plus, when they end up floating at the top, you can replace them for a 'buck' and continue to call it 'Nemo' if you'd like, as you can't tell the difference in this goldfish from the last one. However, I'm guessing you're not likely to fall for the goldfish deal – a dog or cat is more likely.
Whether a dog or cat is right for you depends on the lifestyle you live or wish to live. For me, I'm not 'settled' in yet and as a result I'm looking to keep from adding things that create additional complexities. Right now if I want to go somewhere I go. No special arrangements required. I know that wouldn't be true if 'Spot' or 'Fluffy' were living here.