'Problem' Women You Meet Online
Posted under: Mind, Spirit, Lifestyle, Relationships
---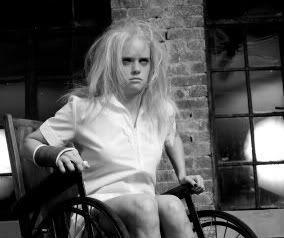 Anyone who has been online for long will soon learn that it is a bit crazy out there. Most of us have more than a couple of stories to tell on this subject.
Finding the right gal to start with is a daunting task, but it is even trickier figuring out who is even worth a test drive. Here are a few of the types of gals you may run into out there and that you probably ought to steer clear of, unless of course you're just looking for a strange ride:
The Needy. This is the kind of girl looking to fill a void in her life that even she may not be real clear about. They tend to be pretty high maintenance in the sense that they constantly need attention, affirmation and compliments in order to feel good about themselves and will do what it takes to get it. Manipulating you by guilt or emotional outbursts are some ways she gets you to pay attention to her.


The Rebounder. This gal is fresh out of a relationship and thinks she's truly ready for a meaningful relationship. She's not and it will become clear when you get below the surface that she's emotionally unstable, angry, overly defensive and easily hurt or offended – just seems overly sensitive about everything. She also seems to be in a hurry to 'meet someone'. Her wounds are still fresh and you'd do well to steer clear of her.


The Diva. This lady is even too good for herself! Or so she projects. God's gift to man, and far superior to any woman she can think of. She usually has some reason to conclude that she is top shelf and should be treated as such. This might be due to her being physically attractive or perhaps successful in some way, which affirms to her that she is 'somebody' of importance and the world had better take notice. Big ego, moodiness and demanding are some of the hallmarks of a diva. Sometimes hot toward you, then turns cold, inexplicably. High maintenance is an understatement with this one.


The Dreamer. In some way, shape or form this woman repeatedly communicates that she will not 'settle' and like the Diva, has a list that the prospect must meet. The most important challenge though is that she holds strongly to a romanticized view of dating that is more Harlequin novel than Mars and Venus, if you know what I mean. Unlike the Diva, however, this gal is basically genuine and not trying to be egotistical. She simply has not looked in the mirror lately to notice that anyone who gets with her is going to settle.


The Gold Digger. She's after your money. She wants to be able to coast on your sled and do little but look pretty. Usually young, attractive and on the hunt for an older man to take care of her, and she makes him feel like a real man in exchange – at least until she gets what she wants. This arrangement may work for you, but go in with eyes wide open.


The Deceiver. If you've ever watched the movie 'Must Love Dogs', Stockard Channing played the part of an older onliner who had multiple fake profiles on the web – completely fictitious! This is the deceiver. It is a game to just get dates, to get guys to buy them a nice evening and with the hope that maybe something wonderful will 'work out' somehow. To a lesser degree it also includes a great number of women who put 5 -10 year old photos up, headshots only (while describing themselves as slender or athletic when they're, uh, …not), and made up interests, travels and lifestyles.


The Virtual Date. I'll call her your internet buddy. This gal is looking for companionship and romance - online. No really, that's it! Online. She doesn't really care to meet you. She will generally be good at making excuses for why she can't meet or even why she can't talk on the phone. You are her internet buddy. Trust me, they're out there!
Let's face it, it can be pretty rough out there in the dating world at midlife. People are often not as they appear, sometimes unintentionally, but sometimes not. Like anything else, we learn to discern our way and make better decisions, be less impressed by a pretty face on a screen and begin to sort the desirable from the less desirable. A sense of humor is a must, along with persistence. It's a journey, not an event.